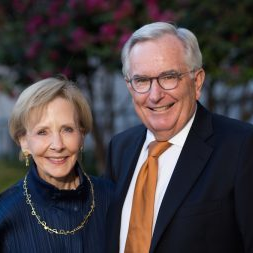 Tom and Sally Dunning Forty Acres Scholarship
Thomas M. Dunning, BBA '65, and Sally Dunning created this scholarship to benefit students at The University of Texas at Austin.
Tom is chairman emeritus of Lockton Dunning Benefits and serves on the boards of American Beacon Funds, BancTec Inc, and Oncor Electric Delivery Company, where he is the lead director. At UT, he serves on the School of Social Work Capital Campaign Committee, the Development Board, and the Chancellor's Council Executive Committee.
Adoptive parents, Tom and Sally hold a special place in their hearts for those in the social work field. Following the adoption, Sally became very involved with the Gladney Center for Adoption in Fort Worth, serving as chairman of the board and co-chairing its campaign to build a new campus. Tom worked with many dedicated social workers when appointed by Texas governors to the boards of the Texas Department of Criminal Justice, which oversees the state prisons, and the Texas Department of Human Services, which oversees many state agencies that employ social workers.
In 1987 when Dallas was facing a major racial crisis, Mayor Annette Strauss asked Dunning to form "Dallas Together" and serve as its first chair. In 2004, President George W. Bush asked mayors from large cities to join him in a 10-year plan to end chronic homelessness by appointing a homeless czar. Mayor Laura Miller asked Tom to be Dallas' first homeless czar and to form a committee to determine where a new homeless assistance center, The Bridge, should be located. Mayor Ron Kirk asked Dunning to chair the DFW International Airport Board and to firmly establish the Universities Center in Downtown Dallas that would give Dallasites an opportunity to attend and obtain a bachelor's degree from a state university in Dallas. Tom has also served as chairman of the Dallas Citizens Council, and organization of the leading CEOs in Dallas.
Sally also has been a leader in the Dallas community. Currently, she is a member of the board of Dallas Women's Foundation and Planned Parenthood of North Texas. She is past chair of the board at Greenhill School and served as chair of the school's capital campaign.
Many honors have been bestowed on Tom, including perhaps Dallas' most prestigious, the LINZ Award. He was recently elected to the Dallas Business Hall of Fame and is a recipient of the Anti-Defamation League Humanitarian Award, the Volunteer Centers Servant Leader Award, the American Jewish Committee Institute of Human Relations Award, and the Natural Leader Award from the Boys and Girls Club of Greater Dallas. In November 2010, the Texas Exes Dallas Chapter honored Tom for his many years of service in leadership positions with Dallas boards, civic organization, and non-profits.